A Recorder Player's Bio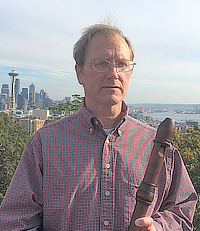 Fortunately as it turned out, a next door neighbor sold my cherished guitar I had loaned him, thinking he was a friend. Stuck without an instrument, I walked into John's Music Store on the Ave (Seattle U. District), and bought what I could with thirty dollars in my pocket, a plastic Zen-on alto recorder. I was pleasantly surprised after a time to realize it was the same instrument I had most loved to listen to on KING FM radio—a sound worth embracing.

My earliest recorder instruction was with David Ohannessian. He patiently taught me to expressively phrase and shape the music. He's well known in Seattle as an excellent recorder maker and performer.

Later on I studied music in a broader sense with Margriet Tindemanns at the University of Washington, Seattle. I miss Margriet (1951-2014) deeply; she uplifted many lives. She is well known for her singing in the group Sequentia, as one of the top ancient string players, and as founding director of the Medieval Women's Choir; but I can tell you she was also a very fine recorder player.

Margriet helped me gain admission into St. Scholastica, Duluth, where I studied with Shelley Gruskin to earn a B. A. in Early Music Performance. Previously, Shelley had been a member of the New York Pro Musica and president of the American Recorder Society. I look back with admiration at how adroitly he would arrange music from the ancient Western lands and epochs, perfectly utilizing and challenging the musicians at hand.

My final instruction was with the virtuoso John Tyson at New England Conservatory. He enthusiastically took me in as his student, and showed me how to push my technique to higher levels. I was only able to stay for one semester however, and ever since have been studying on my own.

Memorized Solo Repertoire
Medieval: Kalenda Maya. 2 Salterello's & a Trotto (GB-Lbl, add. 299787, fol. 63v-64r).
Early Baroque: J. Jacob Van Eyck. Boffons; Van Goosen; Fantasia & Echo; Een Courant.
Baroque: Georg Philip Telemann. Fantasias 4 in D flat major, 11 in B flat major, & 12 in B flat minor. Johann Sebastian Bach. Solo (Partita BWV 1013).
Traditional Dances: Ap Shenkin (The Tempest). The Mason's Apron. Morpeth Rant. Soldier's Joy. Spitfire Reel. The Cukoo's Nest. Dorsetshire Hornpipe. Waterloo Hornpipe. The Bunch of Rushes. The Blackbird. The Turkey in the Straw.
Handmade Instruments
Wondrous is the variety of instruments recorderists get to play, each very different, yet encompassing a similar sweet sound like no other.